I'm an ex-Jehovah's Witness with a focus on Black atheism, humanism, and sex-positive dialogue. | @BridgetGaudette
One could say that there are many brands of Atheists, ranging from apathetic to "militant". Near the apathetic end of the spectrum you'll find the Atheist Slacktivist. The Urban Dictionary explains that "Slacktivism" is the ideology that people want to appear to be doing something socially responsible and helpful for a particular cause without actually having to do anything (in this case promoting atheism and/or church/state separation).
Do you retweet and repost stories about separation of church and state (SOCAS) issues based only on the title, not having read them? Do you  "like" and "share" every Facebook group containing the word "Atheist" but never contribute anything meaningful to the conversations? Do you join secular meetup groups but never attend? Do you make excuses for not donating to, organizing and protesting for or even blogging about secular organizations, but still find time to argue in the Atheist v. Theist groups? Do you consider upvoting on Reddit the height of activism? Is your timeline cover photo or avatar usually a picture of Christopher Hitchens or Neil deGrasse Tyson.. and.. well.. that's it? If you answered yes to any of these questions you might be an Atheist Slacktivist.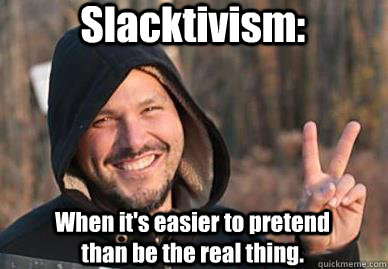 This is not to downplay the role of social media in activism. We only have to look at Occupy and the Arab Spring to see what an important role it can play. In fact, it is arguably the #1 tool that Atheist organizations and activists have at their disposal. Facebook, Twitter and Youtube are free after all!
Do this: keep raising awareness via social media but add some substance. Write a meaningful and informed letter to the editor or a legislator about a SOCAS violation, organize a protest, go out and volunteer at a food bank wearing your American Atheists T-shirt!
In the article that inspired this post, "Changing the Face(book) of Social Activism", the author summed it up nicely, "People are using social media to hunt war criminals, win the White House […], change banking regulations, and overthrow dictators in Libya, Tunisia, Egypt, and Yemen. In each instance it was social media that facilitated broad-based social activism and empowered the aspirations of millions. Its power has just begun to be tested, but the evidence so far indicates that social media has successfully reinvented social activism".
Click here to find organizations looking for volunteers and get involved!
…
@emilyhasbooks wrote a piece titled "We're All Activists" that relates well to this post, check it out: here
…
Your generous contributions will go towards my travel expenses to secular conventions and help to keep me blogging. Thanks in advance!  -Bridget
Category: Activism